General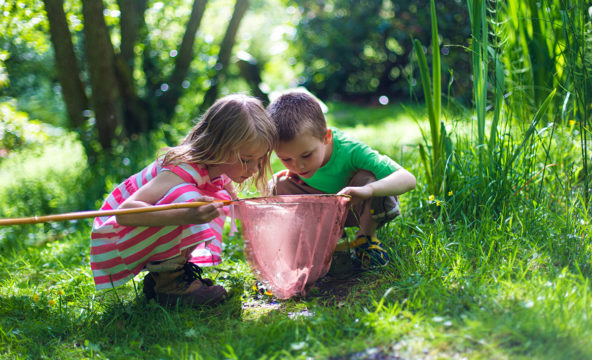 The national Child Strategy was published on 23 February 2021
The Child Strategy, prepared in 2020, was published in February 2021. The aim of the Strategy is to ensure that the rights enshrined in the UN Convention on the Rights of the Child will be realised in Finland as fully as possible. The groundwork for the Strategy started in 2018, with the 'Child's Time 2040' activities.
Download the Child Strategy (pdf)
What is the Child Strategy?
The purpose of the Child Strategy is to advance the implementation of the UN Convention on the Rights of the Child and the realisation of children's rights. The Child Strategy is a vision of a child- and family-friendly Finland and is founded on knowledge and research. The Child Strategy covers the current state of well-being and rights of children and young people in Finland as well as the key objectives and measures to promote these issues.
Vision of the Child Strategy
The vision of the Child Strategy is a genuinely child- and family-friendly Finland that respects the rights of the child. The Strategy was prepared by a parliamentary committee in 2020. It helps to specify more detailed measures for improving the status of children. These measures are recorded in an implementation plan to be prepared for each government term.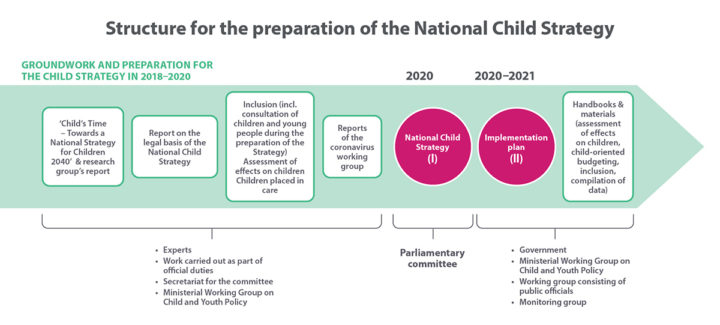 Diagram: Preparation of the national Child Strategy
Why do we need a child strategy and an accompanying implementation plan?
In Finland, most children do well, but there are still many challenges when it comes realising children's rights. Different decisions and measures affect the status of children, but such impacts are not always assessed thoroughly enough in advance, and children's opinions and views are not taken into account systematically. Studies have shown that many children and young people experience discrimination or loneliness. Not all children receive the support or services they need.
The Child Strategy guides the Implementation plan drawn up for each government term. The implementation of the strategy ensures that the rights of all children are fully realised. The Implementation plan has an impact on how the policies of the strategy are promoted by each government.
You can read more about the information gathered during the preparation of the Strategy on the Publications page. You can find videos about the Child Strategy in Finnish and Swedish on the Rights of the child YouTube channel!
Do you have any questions?
For more information on the Child Strategy, please contact Laura Saarinen, laura.e.saarinen@gov.fi, tel. +358 50 476 5118.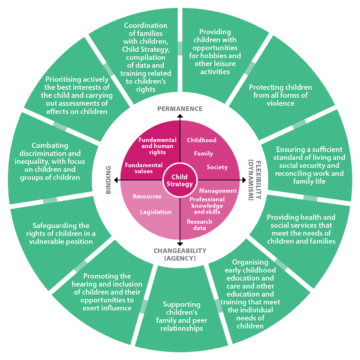 Diagram: Role of the Child Strategy as a basis for and on the perimeter of decision-making and measures concerning children.